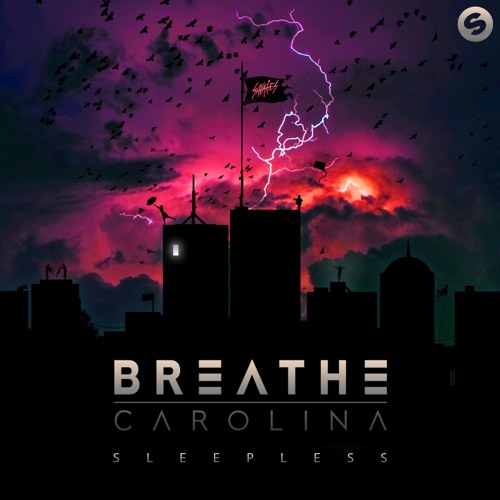 Breathe Carolina
"Sleepless"
Release Date: 16.09.2016 via Spinnin' Records
Breathe Carolaina is American formation, which from the beginning of their existence take a long road to the place where they are right now. Back in the 2006-2014 they created a combination between screams and electronic, now they have a chance to be the next big name in the EDM industry. Not so long ago they join forces with Dutch recording company, Spinnin' and the effect of this collaboration came to us quickly than we expected. Of course we're talking about their latest mini-album called "Sleepless", which was released in the middle of September.
On this EP we can find eight songs from where six of them are completely new (another two was released a little bit earlier). Let me just say at the very beginning, that it is one of the best albums, which Spinnin' ever released. As a prove we can take songs "Nights", "See The Sky", "Stable" and "More Than Ever". All of those should be doing well in radio stations. Catchy connection between good clean vocals and chorus, which stays in mind long after track ends. A little bit different, but still very good is title song, "Sleepless". Ba! I would actually say, that this is my favorite one from the entire record. There's absolutely no vocal at all, but the solutions implemented into the melody creates unforgeable sound and this from the other hand give us a incredibly nice dance track. Next song, which we have on this album is track called "Stay" featuring Sophie and the Bom Boms. This particular one hit me with this how much lyrics truly picture the reality, my reality of course – hopefully your lives are a little bit easier than mine (: Of course sound of this position is also good, not crazy good but still.
At the very beginning I said, that this is the best of the best if it comes to Spinnin', but there's no chances that anything will be perfect in hundred percent, so … There is a bad side of this record as well. In this case worst turn out songs "Vanish" and "Getaway Car". First from the mentioned tracks in few parts sounds good, mostly when it comes to David's vocals, because the female parts are just not to stand – I'm sorry about that, because this song actually have a potential to be as good as first four, which I bring to light in first lines of this review. Second one, this about the car is simply the song, which nobody will miss if somebody will throw it out of the record. For me is just a three minutes of filling the empty space.
For the end I just want to say, that if you like electronic music with a fresh pop sounding addons, which also includes a good clean vocals and catchy choruses – this is an EP for you.
8/10
Comments